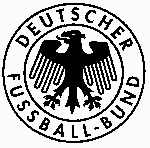 In June 2014, the German supermarket chain Real submitted a request to cancel the registered trademark of the German Football Association (further: DFB), namely its logo, to the competent authorities.
Real argues that the DFB is displaying a state symbol of Germany in its logo, more precisely the German state eagle. According to German and European legislation, state symbols may not be protected by the registration of a trademark. Therefore the registered trademark of the DFB would be invalid and would have to be cancelled.
Prior to the cancellation request by Real, the DFB had applied for an interim injunction at the District Court in Munich on May 30th, 2014. The DFB claimed that Real may not sell products displaying an emblem that looked similar to the DFB's logo. Real had used a circular logo displaying an eagle, just like the DFB's logo.
The District Court in Munich granted the interim injunction, which led to a prohibition for Real to use the logo on its products.
If Real's request to cancel the DFB's trademark is successful, the eagle may be used by anyone.
However, even if the trademark was cancelled, one may not use the logo of the DFB without approval. The reason for this is the fact that the DFB-logo displays additionally to the eagle the word element "Deutscher Fußball-Bund".
Supermarket chain Real, yet, can solve this issue by placing a different word element in its logo, such as "Deutschland Weltmeister" using a different font. In our opinion Real would rightfully make use of this slightly altered logo, certainly after the next World Cup.
Recently, the District Court Munich, which before had granted the interim injunction, passed the ball towards the German Patent and Trademark Office (DPMA) and to the Office for Harmonization in the Internal Market (OHIM).
In its judgment on August 7th, 2014 concerning Real's opposition against the interim injunction, the court declared that it does not have jurisdiction over deciding whether or not the trademark registration of the logo of the DFB has to be cancelled. Instead, the court referred the matter for a revision of the trademark registration to the above-named authorities.
Thereby the court affirmed the interim injunction that prohibits Real to use the logo on its products.
We will keep track of the requested cancellation of the DFB's trademark.
Lena Kröger – Helen Picker